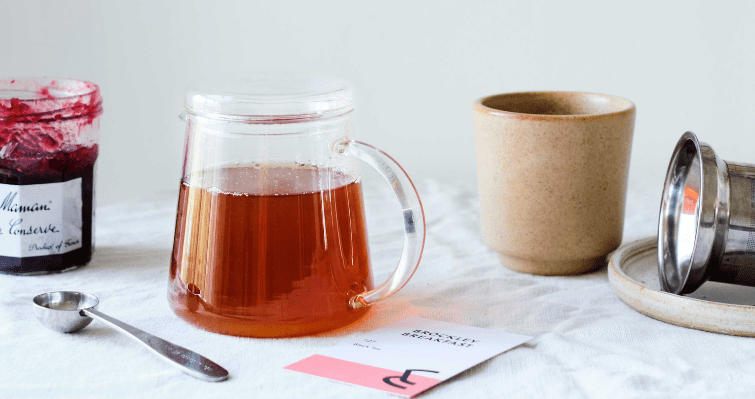 Good & Proper Tea is a speciality tea supplier based in London, offering a wide variety of premium quality, award-winning loose leaf teas, tea bags and tea accessories available to buy online.
Whether you're loyal to a traditional breakfast brew or want to experience something new, our mission is to show the world how good tea can be, when it's done right. All of our teas are responsibly sourced from around the world, with our team always looking for something special. We then focus on the brewing to ensure every cup tastes just as it should.
Our full range is available to order online, with free, fully tracked delivery on orders over £25.
We also provide a comprehensive wholesale service for establishments, such as cafes and restaurants, who want to give their customers the best possible tea experience. Our wholesale partners benefit from training and support from our team, as well as quick, reliable delivery of our award-winning products. To find out more about partnering with us, head to our Wholesale page here.
FINALLY, A GOOD AND PROPER CUPPA
"An imported culture of skinny lattes and frappucinos-to-go has meant coffee has dominated our high streets for over a decade. And yet, though tea remains the nation's favourite hot drink, the quality on offer is more often than not distinctly average. That's what I wanted to change, by offering fellow tea-drinkers the same quality experience that my coffee-junkie friends currently enjoy."
how it all started
Having bored her friends for years about the poor quality of tea in London, our founder Emilie finally decided to do something about it. With plans to convert a 1974 Citroën-H van into a mobile tea bar, she took the idea to crowdfunding platform Kickstarter & 372 backers made that dream come true. Each of their names are still displayed proudly on the back window of that van, which the backers affectionately christened 'Watson'. The first cup of tea was brewed in Shoreditch on the 3rd December 2012. Many years later and thanks to the support of our many wonderful customers, friends, partners and suppliers, Good & Proper Tea has grown to an online store, a fast-growing network of cafe and restaurant partners – and of course the van too lives on.
5* BLACK TEA
Brockley Breakfast is a superb black tea and the ideal way to start your day!
DAVID S
GREAT START TO ANY DAY
It's not always been always easy to embrace each morning with hope over the last year. While Brockley has not always put the hope back it has filled my start with peace and joy. Not bad for a cup of tea. Tastes great!
PAUL C
BEST TEA EVER!
I absolutely love this tea, which is better than any English Breakfast blend I ever had.
NATALIE R
REALLY GOOD TEA
This is really nice tea rich and full-bodied. Love the aroma, taste and colour. Having for years tea bag teas and coming back to leaf it's life changing experience. Hight quality beverage.
MALGORZATA C
THE BEST, MOST REFRESHING AND REVIVING MORNING CUPPA!
I can't drink anything else since my daughter sent me a gift pack for Mother's Day! I love your tea!
PHILLIPA V
EXACTLY WHAT I WAS LOOKING FOR
Smooth, tasty, with that ever-so slight kick I expect. This is the English Breakfast for me above any other brand; went from sampler to 1.5kg bag in a flash! Great service too. Thanks Good & Proper Tea!
DAVID W
EXCELLENT TEA, HIGHLY RECOMMENDED
I've been buying from Good and Proper Tea for years, I highly recommend their Earl Grey and also the peppermint.
INDIA B
MY FAV CUP OF TEA
Love this leaf tea! In fact I now have 7 varieties of Good and proper tea in my pantry. Perfect companion to pancakes on Sunday! Well done guys.
ANNA A
JASMINE TEA
Such a beautiful, delicate tea. It's all about the simple treats right now to get you through the day and this tea is top of my list. Knowing I have a tiny window in the day to sit down with something special rejuvenates me and gives me a pep in my step for the rest of the day. Love the move to better packaging too.
LINDSEY C
EXCELLENT CUPPA!
I have so far tried mint and rooibos tea bags. They are excellent! Far better than other top brands, I highly recommend them. I shall definitely use again.
LIZ R
GREAT TEA - AND PACKAGING
Bought it as a gift for a client - they loved it! And also noted how environmentally friendly the packaging was.
AMRITPAL G
ASSAM, WHAT TEA SHOULD BE!
Really like this tea, I'm finding a pot can get brewed with just two teaspoons.
Smooth, flavorful, fragrant. Good with milk as well.
MIKE J